Aussteller 2022
Auf 1.600 Quadratmetern und sechs nebeneinander liegenden Ständen feiern zahlreiche Sammler, Retro-Entwickler, Musiker und Vereine die Geschichte und Kultur des Computerspiels.
Weit über 200 einsatzbereite Spielkonsolen, Heimcomputer, Handhelds und Automaten aus vier Jahrzehnten machen die Entwicklung des digitalen Zeitvertreibs lebendig.
Gäste
Chris Huelsbeck (Komponist)
Petro Tyschtschenko (Commodore-Legende)
Konstantin Stürz (Regisseur)
Factor 5
Musiker live am Stand
Endgegner
MULTIPLAYER
Vault Kid
Altraz x Chriz Doe
Toriyuca Arts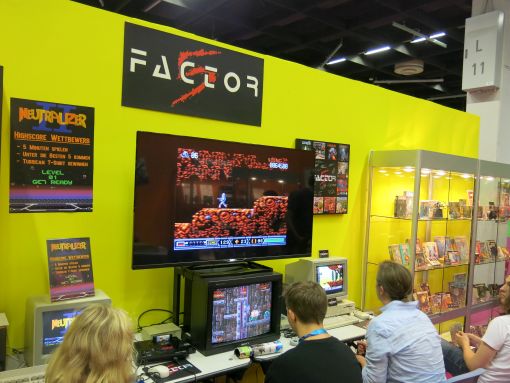 Aussteller
AMIGA
ABBUC e.V.
Asobi.tech
Bitte-8-Bit
Classic Tetris Germany
Commodore Connection Line
consolevariations.com
Consolekabels.be
Dr. Wuro Industries
Dragonbox Shop
ejagfest - European Atari Jaguar Festival
Elektronite
Factor 5
Flipper- und Arcademuseum Seligenstadt
German Remix Group
Haus der Computerspiele
Jugend forscht AG Neustadt
KMS
Männerquatsch Podcast
MogelPower
National Videogame Museum
Nerds and Geeks
nerds-on-line
Next Heroes
PONG
Radio PARALAX
Retr-O-Mat
Retro Computer
Retro-Nerds Münsterland
Retrokram
retrospiel
Scene World
Shadowboxer
Spectrumania
Stabyourself.net
Step Revolution
The Controller Project
Vierpfeile
PS: Das RETURN Magazin ist dieses Jahr nicht auf der Gamescom, sondern auf den Xperion Days vom 25. bis 27. August bei Saturn im Hansahochhaus Köln.